GB1918EKN Special Event Station at Enniskillen Castle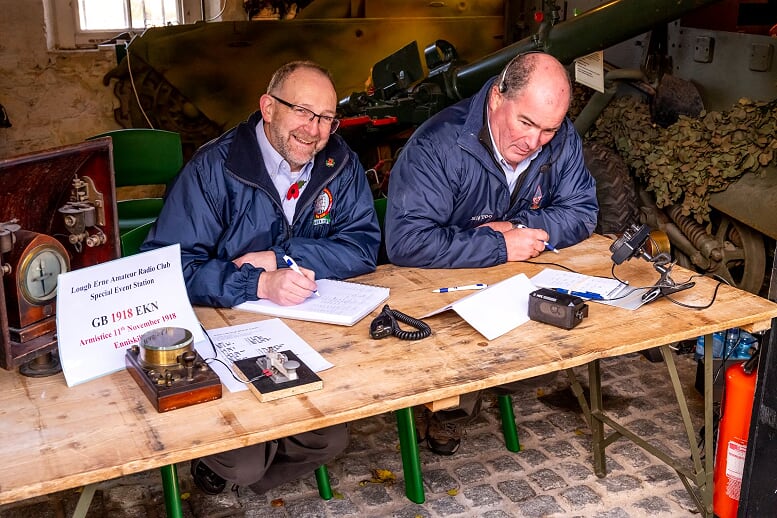 On Saturday 10th November, several club members attended and operated our special event station, GB1918EKN, to commemorate the 100 year anniversary since the armistice for World War 1 was declared.
This special event station allowed the club to explain to the public the connection between amateur radio and the message sent from France to London to declare the armistice. This message was sent by Morse code, but was picked up at the now Inniskilling Museum in Enniskillen, which was then the military barracks, roughly four hours before London heard the news, so Enniskillen was one of the first towns to hear of the ending of WWI. See below for related newspaper articles at the time covering the story.
The special event station had a constant pileup on 40m which was worked by Alan, Brian, William, Herbie, Raymond and Tommie. Over 100 contacts were made, from all over the globe, including the Azores. The station used radio equipment brought by Brian, and used Raymond's trailer tower with thanks to Herbie to raise our club Comet antenna up into the air.
Throughout the event, there were members of the public stopping by to ask questions about the radio station, and this gave us as a club a golden opportunity to advertise and promote the hobby to the general public, as well as explain the story behind why the club was there at the event.
To further promote the hobby, BBC Radio Ulster's John Toal Show was at the event doing a special broadcast explaining the connection behind the venue and the end of the first world war. There were many interviews which took place during the time slot for the show, the interview with Nathan can be listened to here or the full show can be found here.
In the interview with Nathan, MI0NPR, he talked about his involvement in the hobby, how amateur radio is still relevant in today's society, in particular to young people and what makes the hobby so interesting.
This special event station was a very successful one, with lots of promotion for the hobby and also for the club itself. A massive thanks goes to Selwyn Johnston for helping organise the event, and for getting the club involved.
A big thanks to all who made this event possible
Below are some photos of the event:
Written by Nathan, MI0NPR